MAKE IT A TALL ON US

Tuesday 8pm-close | Friday & Saturday 11pm-Close
Order any of the following cocktails and "Make it a tall on us!"
Ketel one & Flavors, Tanqueray, Captain Morgan, Captain Morgan Silver, Don Julio, Crown Royal, Johnny Walker Black
*2 oz tall Pour – Single Liquor Drinks
---
4 for $20 after 11pm

Food: Cheese Pizza – Calamari – Shrimp Tempura – Queso Cabra – Spicy Tuna – Asparagus Roll – Albondigas – Tiradito
Drink: Fireball – Rumple Minze – Green Tea Shots – Lemon Drops – Premium Well Brand Liquor * – House wines
* Single Liquor Cocktails only, Red Bull Included. All 4 items served as 1 round.  Available after 11pm
---
5 for $5each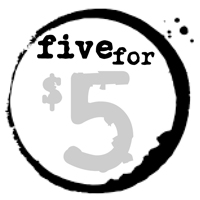 At Cheap we keep it simple, tasty and FUN!
Choose any of these 5 appetizers or cocktails for just $5 each.
Offered every Thursday ALL NIGHT, Fridays & Saturday from 5-8pm
Five for $5 Menu:

Calamari Fritos: Crispy Fried Calamari, Aoili
Shrimp Tempura Roll: Tempura Shrimp, Cucumber, Pickled Carrots, Inside Out with Wasabi Mayo
Chorizo en Sidra: Chorizo cooked in Apple Cider
Salmon Tempura: Salmon, Cream Cheese, Cucumber, Deep Fried with Thai Chili Sauce and Spicy Aoili
Snack Pack *L 1 Famous Slider, 2 Wings, and Small Fries
*one order per guest please
or enjoy a 12oz Ribeye for $10.95
both served with Twice Baked Potato & Asparagus
Five Refreshing Cocktails to choose from:
Gummy Bear, Chupacabra, The Cougar, Coconut Mojito or Strawberry Mule
Beer, Wine & Drinks!
$3 Bud & Bud Light
$4 House Wines
$5 Call Drinks
$6 Premiums
$7 Super Premiums
Sangria!
$25 pitchers of White, Red or Champagne Sangria
---
Thursdays
TAKING BACK THURSDAYS!
Dj Santana all night ( House & Top 40 ) party mix inside

---
Fridays
FUNKY FRIDAYS
Dj Boomerang ( funk ) early & Dj Tim late night lounge (top 40) party mix inside
Dj Big Willie on the patio
---
Saturdays
SWANKY SATURDAYS
Dj Jask ( house ) early & Dj Juan late night lounge (top 40) party mix inside
Dj Big Willie on the patio