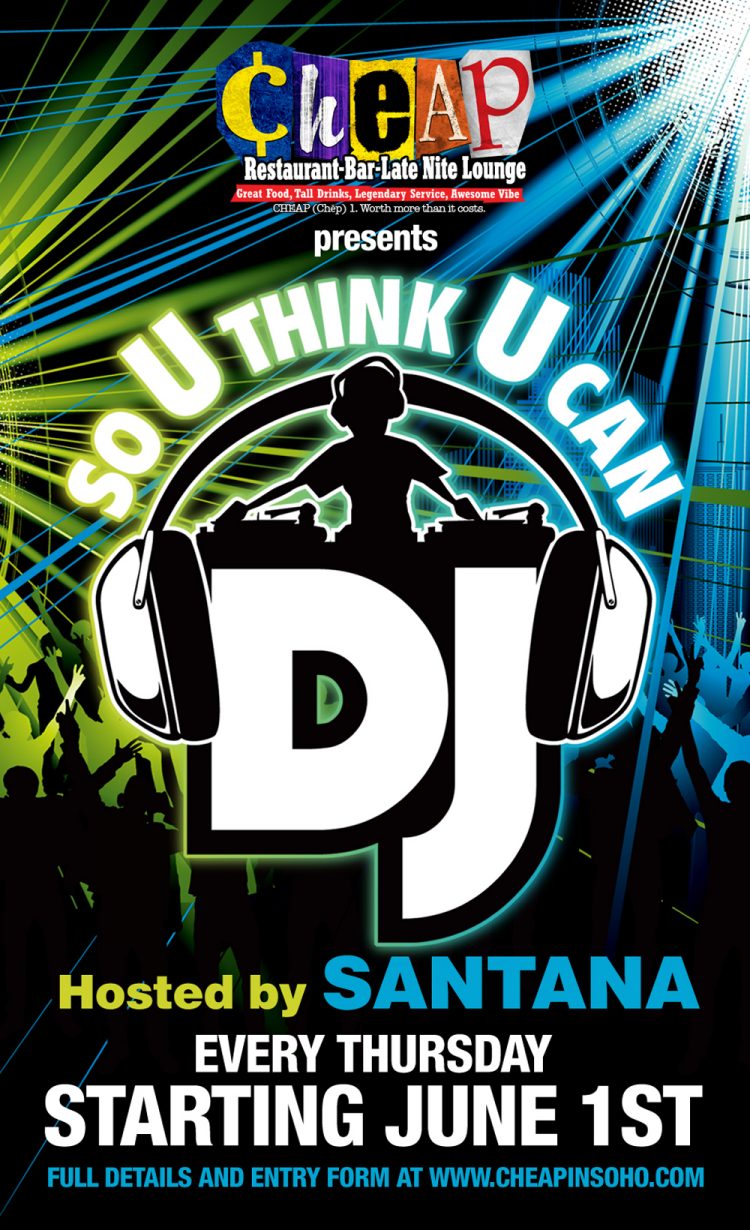 SO U THINK U CAN DJ?
"The weekly open mic style dj competition"
KICK OFF THURSDAY JUNE 1st and EVERY THURSDAY THEREAFTER:
THE CROWD DECIDES!!!
Show off your unique djing skills from turntablism, to live mash-ups and ability to blend all styles of music from rock, hip hop, house, techno, edm, samples, loops etc. Bring your crew, tell all of your friends to show up to support you. Entrants will be judged by the crowd the night of the competition, in a "TEXT TO VOTE" format. SO BRING YOUR FRIENDS and CREW, because the most texts will win!!!!!
ENTRY PROCESS
DJs for each night are chosen on a first come first served basis from the entries online.
Entrants can arrive starting at 9:00pm to check in.
Entrants must be at the venue by 9:30pm ( or they will lose their slot / entry to an alternate )
The first 5 entrants will be allowed to compete.
Entrants must bring at least 5 "crew" with them
We will have 2-3 "alternates" who will be allowed to enter as alternates, but not guaranteed to compete unless any of the "first five" are a NO SHOW. If one of the first five contestants fails to show up by 9:30pm, the alternate will be entered in their place. Alternates also will carry over to the following weeks competition as contestants if they so choose.
GRAND PRIZE WINNER: $200*
RUNNER UP: $50
* Entrants can only win the grand prize once a month. Rules subject to change or modification at any time
ENTER NOW TO COMPETE!
Fill out the form below
TIMESLOTS
( 30 minutes each dj ):
First Come ( early bird arrival ) gets timeslot preference / choice. Timeslots are as follows.
9:30pm – 10pm – entrants arrival and verification
10pm -11pm – alternates considered if any of the first five contestants fail to show up.
11:00 – 11:30 contestant 1
11:30 – 11:35 intermission between contestants
11:35 – 12:05 contestant 2
12:05 – 12:10midnight intermission between contestants
12:10 – 12:30 contestant 3
12:30 – 12:35 intermission between contestants
12:35 – 1:05 am contestant 4
1:05 am – 1:10 intermission between contestants
1:10 – 1:40 contestant 5
1:40 – 2:15 TEXT TO VOTE
2:20 – Winner and runner up announced.
$250 / $50 prizes awarded*
* all entrants receive a $25 bar tab for night of at the beginning of the night..
EQUIPMENT GUIDELINES
Contestants will be provided with the following dj rig. No alternate dj rigs will be allowed.
1 x Pioneer DJM 900
2 x Pioneer CDJ 2000
2 x Technics SL 1200 Turntables*
1 x Serato Box ( newest version )
1 x MIC
Contestants will be allowed to use the following:
VINYL, CD, USB THUMB DRIVES, SERATO** ( DVS -Digital Vinyl System ).
*If using vinyl / turntables, you must bring your own cartridges / needles and slipmats.
**Serato D.V.S. allowed only as a control device, "auto mix" or "auto beat matching" and sequencing type programs/features ( ie. Traktor type ) are not allowed. Entrants using such features will be DISQUALIFIED immediately.
Keep these skills in mind to make the biggest impact on the crowd:
TECHNICAL SKILL
CREATIVITY & UNIQUE SELECTION
STAGE PRESENCE
CROWD HYPE / CROWD RESPONSE
YOUR FRIENDS AND "CREW" CAN WIN BIG TOO… JUST FOR SHOWING THEIR SUPPORT !!!!
Each of your friends will be given a raffle ticket at the door, just for showing up. At the end of the competition, we will announce both the DJ winner and the "CREW" raffle ticket winner. Prizes include bar tabs, private parties at CHEAP and much more!!!